Drainage
Residential New Builds
Hurunui Drainage and Plumbing has the experience and equipment to install drains within the city, town or rurally. Whether it be a new build or relocatable, we will work closely with you or your builder to ensure the drains are installed at the correct time. From past experience, clients that have had their drains and plumbing installed by us, have found their building project has run smoothly. One contact person for two aspects of your project is a win win situation.
Effluent Field Installations
In todays regulated environment, more often than not an effluent field is required if you are building rurally. Dealing with the consent process can be a real headache. We work closely with our suppliers to help you work through the necessary steps from design, consent, implementation and sign off.
Blocked Drains
If you have ever experienced a blocked drain, you will know that it can be a real inconvenience! The team at Hurunui Drainage & Plumbing understand that a blocked drain cannot be left for a couple of days. We aim to get a team member to attend to this problem as soon as convenient.
CCTV Drainage Camera
Our CCTV drainage camera is fantastic for finding 'exactly' where the problem is within your drains. The camera can locate the problem quickly and efficiently. The end result being it saves you time and money. A DVD for your own records is also provided.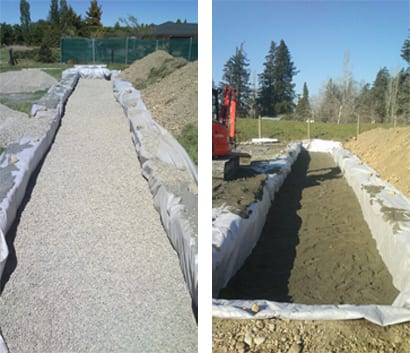 Agricultural Drainlaying
Hurunui Drainage and Plumbing is located a short distance from the developing Waipara Valley wine region. The team at Hurunui Drainage and Plumbing works with a number of local wineries and offers a variety of services to the industry. The skills offered cover areas from irrigation, wine production through to the café/restaurants. These skills also expand to work on sheep, crop and dairy farms. Whether it be on a farm cottage or the dairy shed, the team at Hurunui Drainage & Plumbing can offer solutions to any of your drainlaying problems.